Ecological network in Vojvodina
Institution/Author: Provincial Institute for Nature Conservation/Dr Biljana Panjković
The  first  step  towards  the  formation  of  the  ecological  network  of  Serbia  was  the  designation  of  the  Emerald  Network  area  with  the implementation of the Convention on the Conservation of European Wildlife and Fauna and Natural Habitats. The establishment of an ecological  network  of  areas  of  importance  for  the  EU  started  in  2009  within the Twining SR07-IB-EN-02 project  "Strengthening  the  Administrative Capacity of Protected Areas in Serbia – Natura 2000". The Law on Nature Protection (2009) defines the notions related to the ecological network, and the tasks related to the establishment, as well as measures for the protection and improvement of the network are defined  by  the  Regulation  on  the  ecological  network  of  the  Republic  of  Serbia  (2010).  Based  on  the  Regulation  of  the  ecological  network, the Provincial Institute identifies the boundaries of parts of the ecological network in the area of AP Vojvodina. In addition to the protected areas, it also keeps a database of habitats of strictly protected and protected species, as well as habitat types important for the  conservation  of  biological  diversity,  in  accordance  with  the  relevant  Regulations.  By  the  end  of  2018,  665  spatial  units  were identified, with total area of 163,900 ha, or about 7.61% of the area of AP Vojvodina. Habitats were identified on the basis of field  data, and  presented  in  the  form  of  limited  areas,  within  which  the  coverage  of  the  main  habitat  categories  was  estimated  at  an  accuracy of 5 % to 10 %. In the area of the Province, ecological corridors of regional importance and a large number of local corridors have been identified. The database is complemented in conjunction with identification and habitat mapping activities, and is publicly available in accordance with the law. National ecological network (in Vojvodina): 665 spatial units, total area of 163,900 ha (7.61%)Total under the ecological network 16.52% (protected areas and habitats of strictly protected species of spatial units).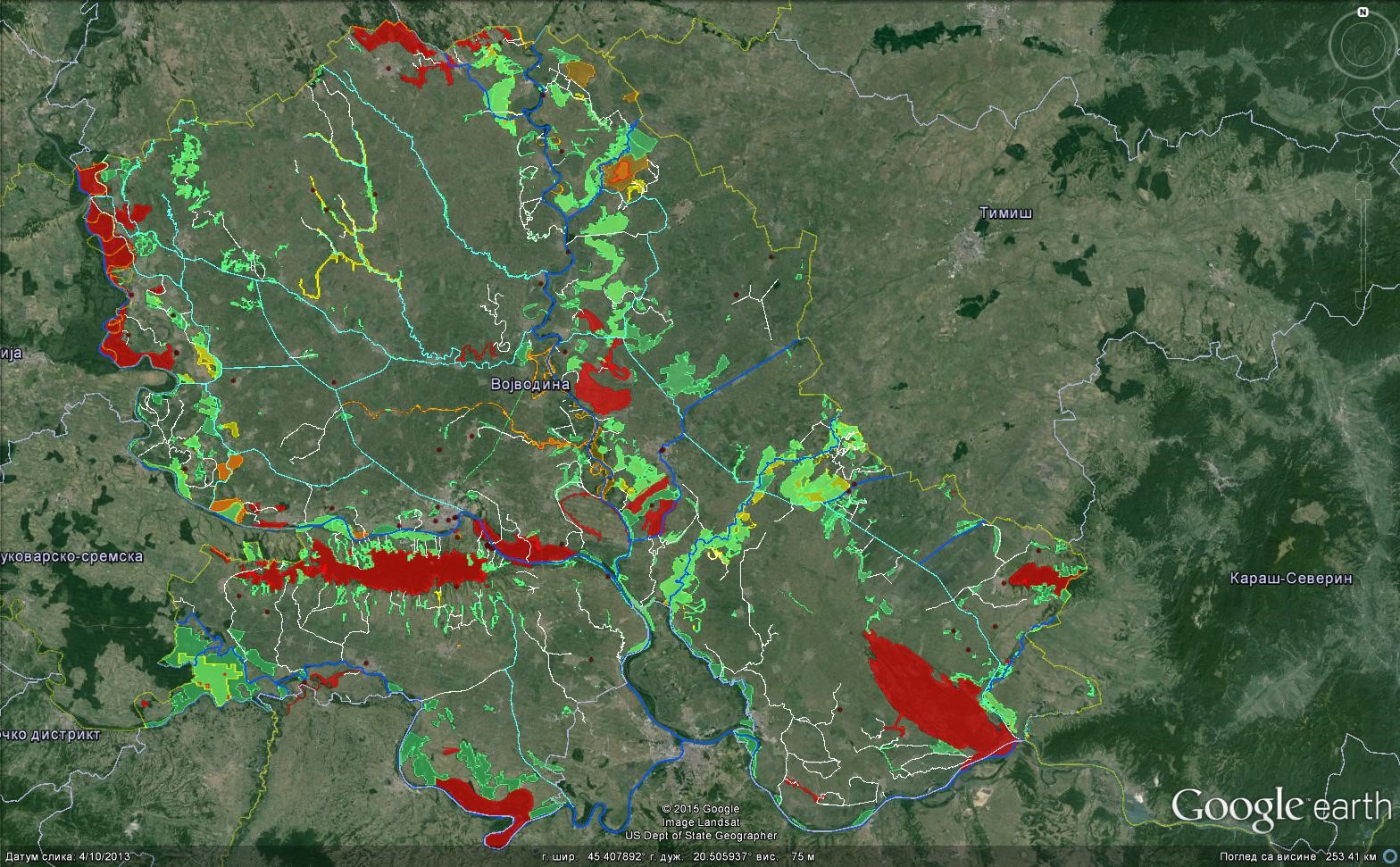 Map 1: Ecological network in Vojvodina
2012 Provincial Institute for Nature Conservation "Expert documentary basis in the area of nature protection for the preparation of the Spatial Plan for the specific purposes of the multifunctional ecological corridor Tisa" – the Regulation on the ecological network of the Tisa River is defined as an ecological corridor of international importance. The study included identification of natural values within the scope of the plan, as well as the assessment of the functionality and accessibility of the Tisa river corridor and the salt marsh-steppe corridor Banat. The data and measures provided guidelines for determining the uses of spatial units within the river corridor, as well as in the zone of influence on the Tisa corridor.